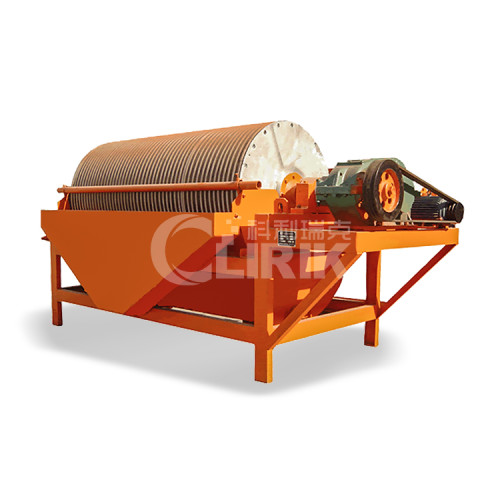 Copper ore Magnetic Separator, copper separator
Item specifics
Color

as request
warranty

1 year
motor brand

Siemens
motor type

AC
control system

PLC
beneficiation method

magnetic
after sale service

online and abroad engineers service
sales range

worldwide
Description
Product Features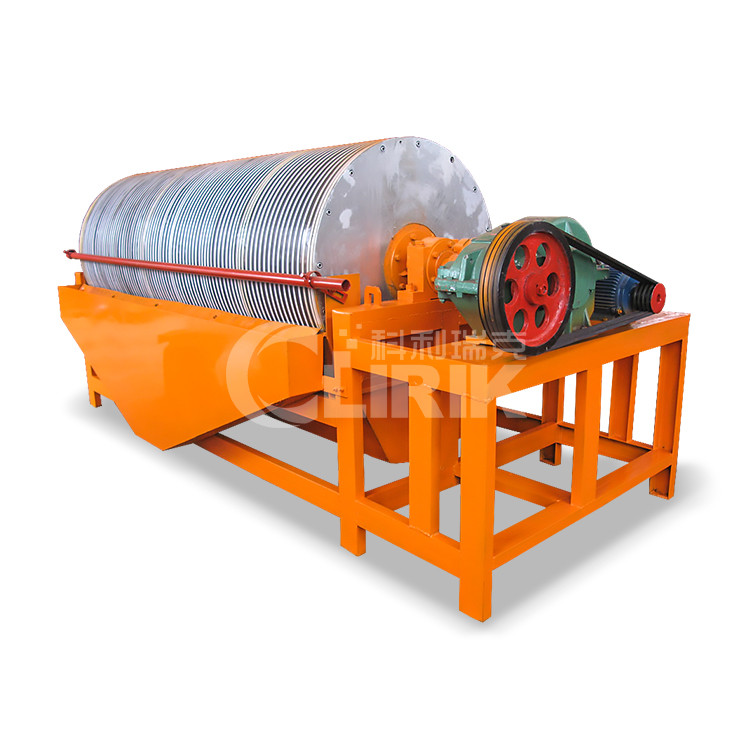 1. Both are new and efficient wet magnetic separator equipment;
2. The magnetic system adopts high-magnetic energy product and high coercivity NdFeB magnet, which has high magnetic field strength and large depth of action. The magnetic field strength has a demagnetization rate of less than 5% for 8 years.
3. The large-angle magnetic system with field strength gradient and smooth transition increases the length of the sorting belt and the number of magnetic inversions to achieve efficient separation of magnetic minerals and non-weak magnetic minerals.
4, magnetic system is attached to non-magnetic stainless steel to ensure that the magnet does not fall off;
5, according to different purposes and sorting conditions, each series of magnetic separator has different magnetic system design and tank structure;
6, the tank structure It is a semi-reverse type. It can also be made into a downstream flow tank according to the sorting conditions and user requirements.
7. The cylinder body is made of non-magnetic stainless steel and covered with wear-resistant rubber, and the service life of the cylinder is significantly improved.
8. The permanent magnet roller is produced. It has strong adaptability, can withstand large fluctuations in ore supply, fluctuation of ore size and slurry concentration;
9. It can obtain superior ore dressing index with high grade and high recovery rate at the same time;
10. Each series of magnetic separators can be used together. It is also possible to use one of the series alone, and all of them can obtain excellent beneficiation indexes;
11. Reasonable design, reliable operation and convenient maintenance.
Working Principle
The machine can continuously feed and discharge ore, with large magnetic field depth, large working gap and high processing capacity. The principle is that when the slurry enters the magnetic field, the ferromagnetic mineral is adsorbed on the surface of the cylinder, the weak magnetic and non-magnetic minerals are thrown off, and the ferromagnetic mineral adsorbed on the surface of the cylinder rotates with the cylinder and is taken. In the magnetic field, flush the water into the concentrate tank to complete the sorting operation. The same cylinder can be equipped with three tanks, namely a co-current tank (CTS), a counter-flow tank (CTN) and a semi-counterflow tank (CTB) to suit different sorting requirements. The downstream tank is suitable for rough selection of ore size of 6-0mm; the counterflow tank is suitable for rough selection of ore size of 0.6-0mm; semi-counterflow tank is suitable for rough selection and selection of ore granularity of 0.5-0mm, especially suitable for A selection of minerals with a particle size of 0.15-0mm.
Technology Data
Wet weak magnetic field permanent magnet cylinder magnetic separator

Model

Cylinder size (tube diameter × length)

(mm)

Tube surface magnetic induction

(T)

Processing capacity

Motor power


(kw)

Cylinder speed


(r/min)
Weight
(kg)

Average value

Sweeping area

Midfield strong magnetic field

(t/h)

(m3/h)

CTB-44
400×400
130
180
250-400
1—2
4—5
1.1
45
350
CTB-46
400×600
130
180
250-400
2—3
5—10
1.1
45
600
CTB-63
400×300
140
180
250-400
3—5
8—15
1.1
40
600
CTB-66
400×600
140
180
250-400
5—10
10—30
1.1
40
750
CTS-69
600×900
180
180
250-400
8—15
20-50
1.1
40
830
CTB-69
910
CTS-612
600×1200
140
180
250-400
10—20
25-60
2.2
40
960
CTB-612
1050
CTS-618
600×1800
140
180
250-400
15-30
40-80
2.2
40
1340
CTB-618
1340
CTS-712
750×1200
160
200
300-500
15-30
40-80
3
35
1500
CTB-712
CTS-718
750×1800
160
200
300-500
20-45
60-100
3
35
2100
CTB-718
CTS-918
900×1800
170
200
300-600
25-55
70-120
4
28
2900
CTB-918
CTS-924
900×2400
170
200
300-600
35-70
80-130
4
28
3600
CTB-924
CTS-1018
1050×1800
180
220
300-700
40-75
110-160
5.5
22
4000
CTB-1018
CTS-1021
1050×2100
180
220
300-700
50-100
140-200
5.5
22
4500
CTB-1021
CTN-1201
CTS-1024
1050×2400
180
220
300-700
60-120
170-260
5.5
22
5000
CTB-1024
CTN-1204
CTS-1030
1050×3000
180
220
300-700
70-150
200-320
7.5
22
6300
CTN-1230
CTB-1030
CTS-1218
1200×1800
180
220
300-700
60-110
150-230
5.5
19
4900
CTB-1218
CTS-1224
1200×2400
180
220
300-700
70-130
80-300
7.5
19
5900
CTB-1224
CTS-1230
1200×3000
180
220
300-700
80-160
250-400
7.5
19
7200
CTB-1230
CTS-1530
1500×3000
180
220
300-700
100-180
290-480
11
14
8900
CTB-1530
CTS-1540
1500×4000
180
220
300-700
115-220
300-540
11
14
9900
CTB-1540